Born on an island.
R nineT Scrambler from Heiwa.
The first meeting of Kengo Kimura and the R nineT Scrambler is like an awkward blind date, but the motorcycle quickly wins over the Japanese's affection – and the owner from Heiwa gives the bike the look of its home.
First date.
First date.
Kengo Kimura likes his motorcycles slim and compact. Anyone who lives on an island is especially shaped by their environment. On Honshū, the Japanese native builds bikes that are just like his homeland in the Pacific Ocean – slim and compact. With his natural ideal of aesthetics, and who founded the forge Heiwa in September 2016, meets the BMW R nineT Scrambler. It is something entirely new for him to work on a BMW. He has never given a machine from Munich the Heiwa look before. The first meeting was as awkward as a blind date. "At the beginning, I respected the strong presence of the boxer engine", Kengo explains. He is used to tinkering on US bikes and motorcycles from England or Japan. "So first I rode the R nineT Scrambler – to work, into town, and on tours – in order to fully familiarise myself with its character." Kengo quickly noticed on the roads of Hiroshima: the engine is one of the bike's biggest strengths. "The Scrambler rides much more easily than I expected. It is surprisingly light and the engine has a pleasant flat torque curve", he says after several dates.
+ Lire la suite
«
My customers say the R nineT has the typical Heiwa look. I did my best to find shapes that look cool. »
After the getting-to-know-you phase, Kengo had an idea of what he wanted to do with the R nineT Scrambler. However, he did not put his idea down on paper, and even in Photoshop or a sketch, he did not create any models. The Japanese pro never submits a draft for his projects, which might be copied.
One thing was clear for Kengo and his team: "We wanted to create a motorcycle that customers want to drive. Even if we rebuilt the frame and changed two thirds, we did not go to extremes as we otherwise would do for show bikes."
+ Lire la suite
Cadre
Rear and main frame changed

Bodywork
Aluminium tank from in-house production, speedometer on left side of the frame above cylinder heads, ribbed leather saddle

Guidage de la roue avant / suspension
Slim tubular handlebars with micro switch and simple round mirror, handmade mudguards from aluminium sheet, cross-spoke wheels of the GS model, headlights and mini tail light from the Heiwa range

Rear suspension
Cross-spoke wheels of the GS model

Échappement
Homemade 2-in-2 exhaust system

Peinture
Paintwork from Six Shooter, beige with traditional black pinstripes, matching powder coating on the frame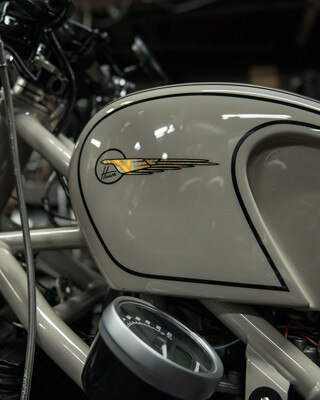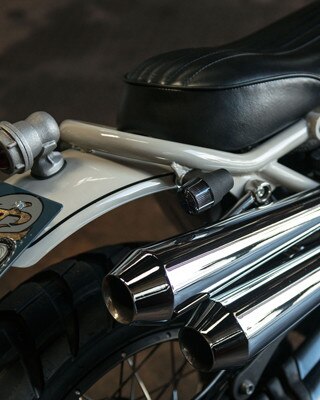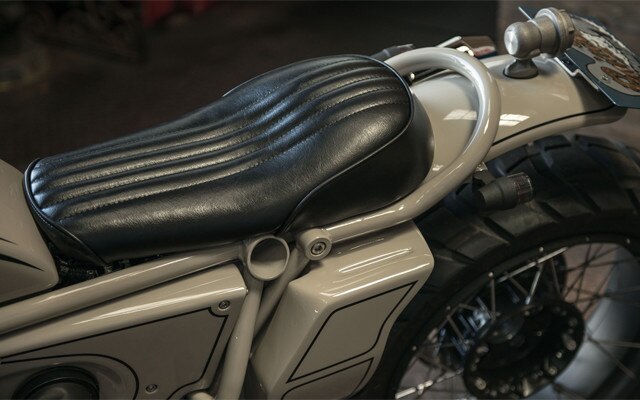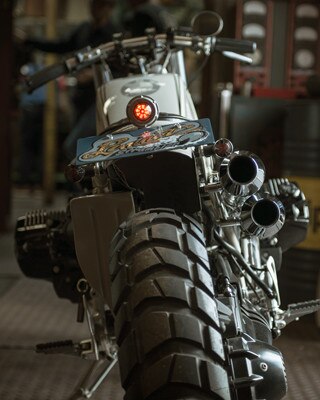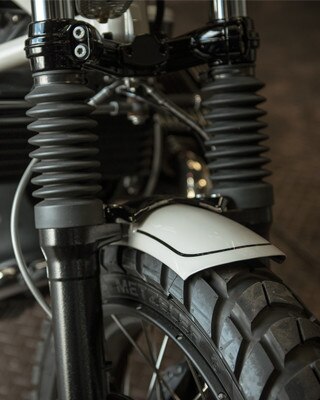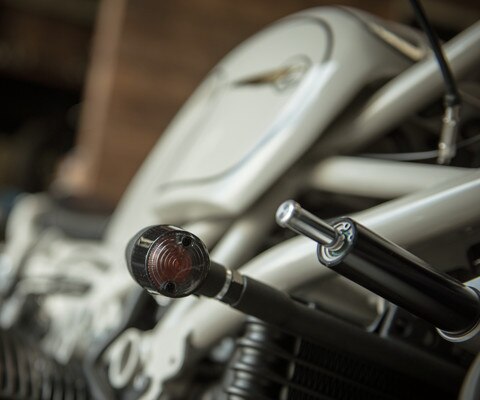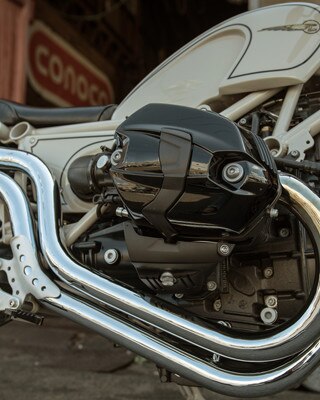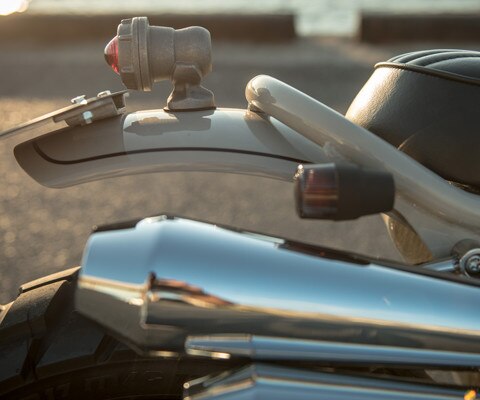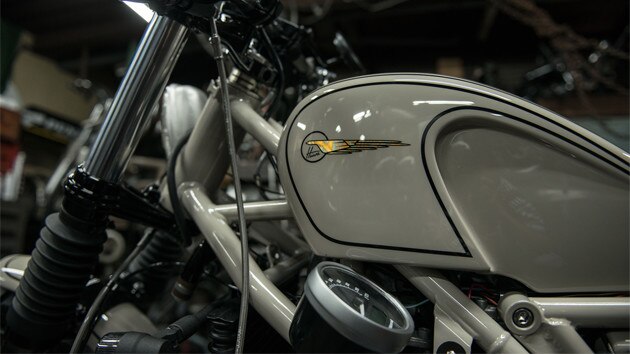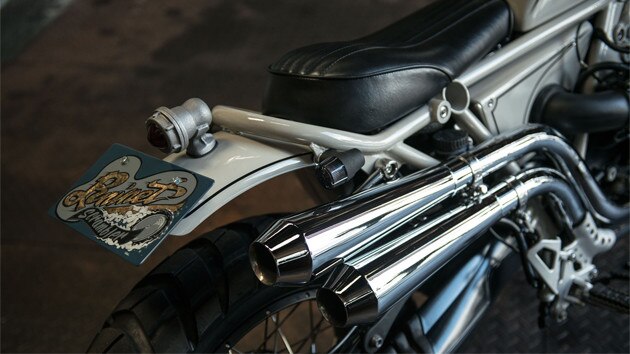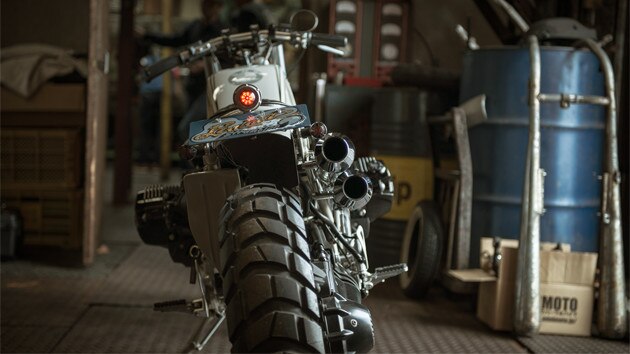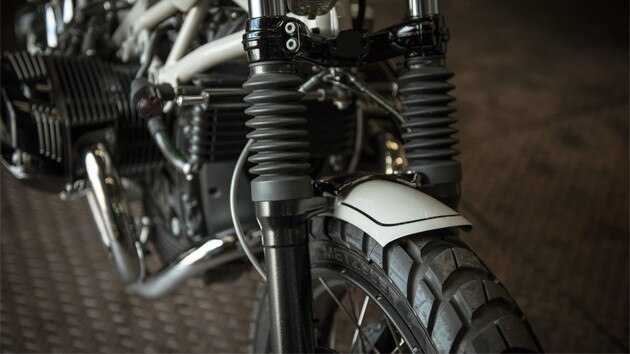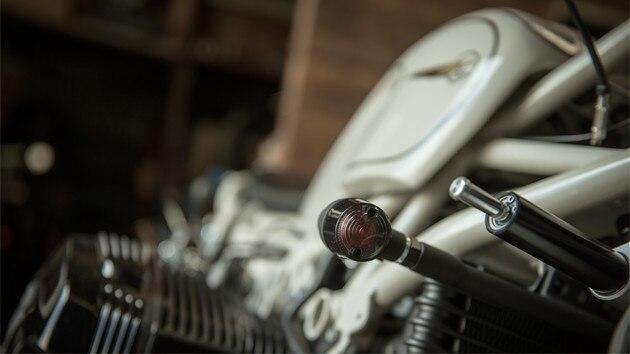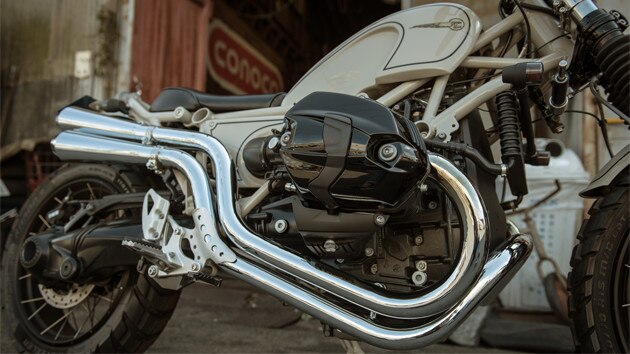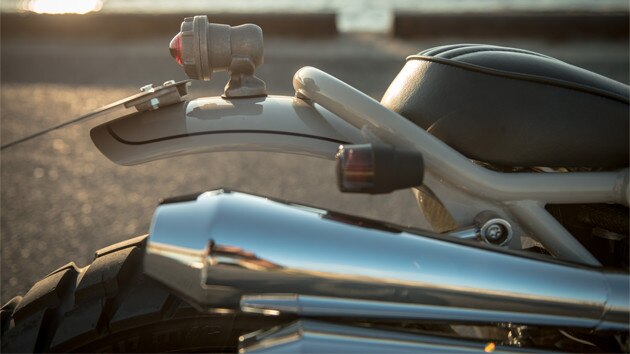 Kengo began tinkering, repeatedly paused, looked at his imaginary blueprints that dictated to him a straighter line under the tank and seat bench. The petrol tank was redesigned – compact and slim (naturally). However, Kengo did not want to lose any range; his bike should be suitable for everyday use. He fitted an auxiliary tank below the saddle. In order to highlight the slim waistline, the Heiwa forge made a 2-in-2 exhaust system that directs attention to the lower part of the motorcycle. The muscular appearance of the standard model gradually becomes embedded in Kengo's head. His original customers repeatedly looked in on him in his shop and checked up on the tinkerer's progress. "My customers say the R nineT has the typical Heiwa look", Kengo says. "Hearing this makes me happy."

+ Lire la suite
Disclaimer
Les véhicules représentés peuvent être modifiés et équipés d'accessoires de fournisseurs tiers et/ou de pièces de fabrication personnelle qui n'ont pas été fabriquées, commercialisées ni testées par BMW. BMW n'assume aucune responsabilité pour les modifications (y compris le montage, les caractéristiques et l'utilisation des accessoires représentés). ATTENTION : La modification de véhicules de série (y compris le montage et l'utilisation de pièces de fournisseurs tiers et de fabrication personnelle) peut altérer les caractéristiques de conduite du véhicule ! La conduite de nos véhicules dans un état modifié s'effectue aux risques et périls du pilote.