Relax or Race.
With the Clubman Racer from 46Works.
An evening spin off into the mountains and a Sunday afternoon out on the race track – the Japanese Shiro Nakajima had specific ideas of what he wanted to do with his R nineT conversion. With the Clubman Racer, he created an all-rounder entirely according to his own taste. And nevertheless meets the taste of the scene.
Self-realisation in the province
His reputation preceded him. Shiro Nakajima had long-since made a name for himself as a musician, before he first set foot in the customizing world. With the Label Ritmo Sereno, he opened a shop in Tokyo for European custom bikes and converted primarily classic BMW motorcycles. In 2014, Shiro moved from the city with a million inhabitants into the interior of Japan and set up a new shop on the foothills of the Yatsugatake mountain range: 46Works. Four in Japanese is shi, six is ro. Apart from custom bikes, the qualified engineer made parts for classic cars and furniture. In his free time, he can be found in the Yatsugatake mountains just as often as he can in vintage races. Shiro's focus clearly lies on craftsmanship. In Yatsugatake, he finds the peace and quiet he needs to create motorcycles that have just as much deceleration in their DNA as they do performance.
+ Lire la suite
«
Whether I make music or motorcycles – my mindset is always the same. For both, fantasies become real. »
With the Clubman Racer, Shiro worked on a new BMW Motorrad for the first time. The bike emerged as part of the R9T Japan project, whereby four renowned Japanese customizers each converted an R nineT. Specifications: none. The perfect pre-requisites to give the bike its own stamp off the rack. "It was my first international contract. I travelled a great deal and met some very interesting people from the scene. It was very exciting", Shiro proudly recounts. His signature becomes very clear for the light, functional bike. The aluminium bodywork is completely made by hand. The line of the rear is reminiscent of the style of classic racing machines. Shiro understands how to combine performance with striking details and in so doing creating the perfect balance between relaxing and racing.
+ Lire la suite
Bodywork
Aluminium tank and rear made by hand, bench by Razzle Dazzlea, footrests homemade

Guidage de la roue avant / suspension
Fork from Öhlins, Magtan wheel from JB-Power, One-off Top Bridge, Clip-on Handlebars, handlebar dampening removed, fork spring of the S 1000 RR

Rear suspension
Suspension from Öhlins, Magtan wheel from JB-Power

Échappement
Hand-made titanium exhaust absorber

Peinture
Paintwork by Stupid Crown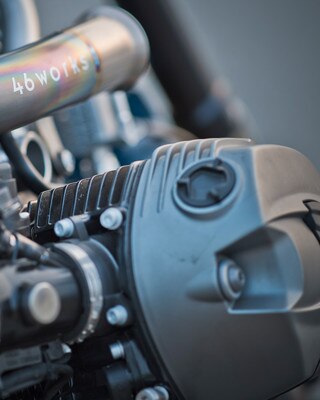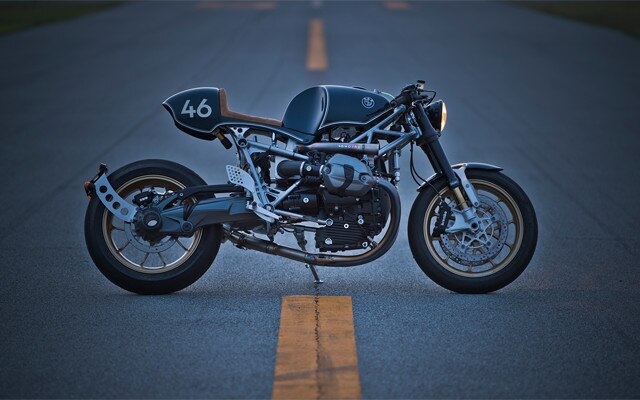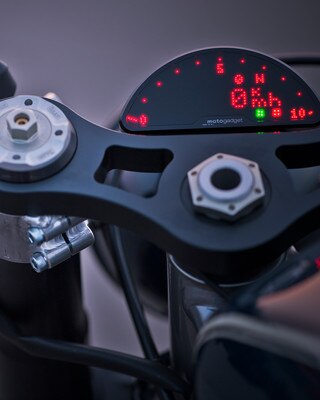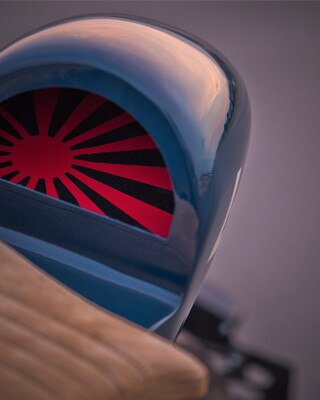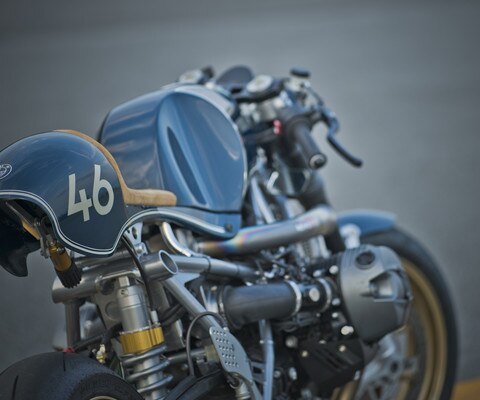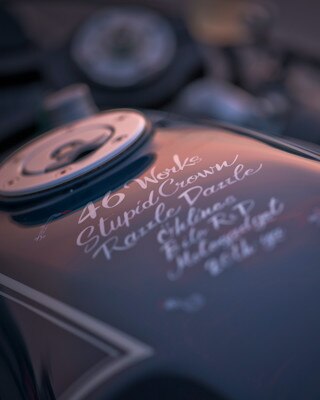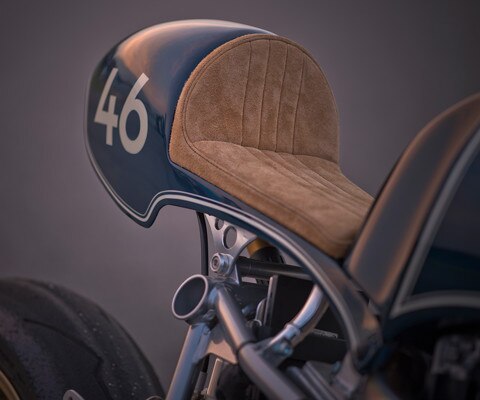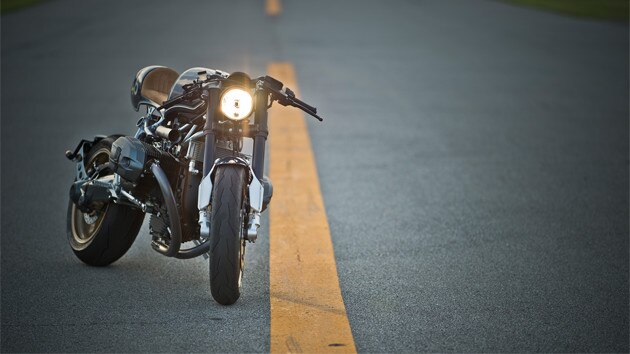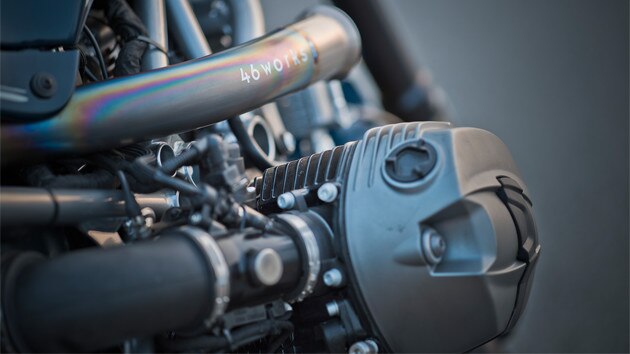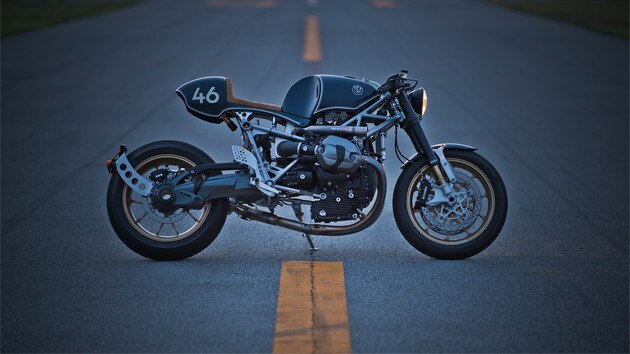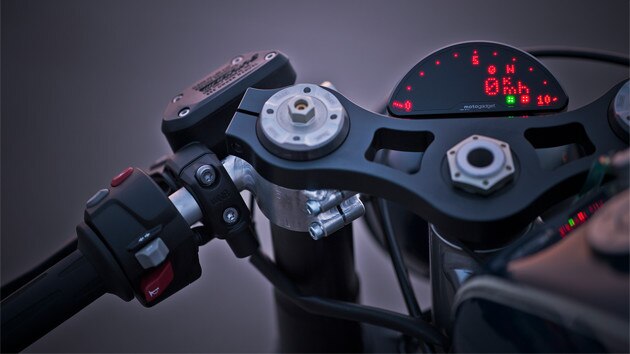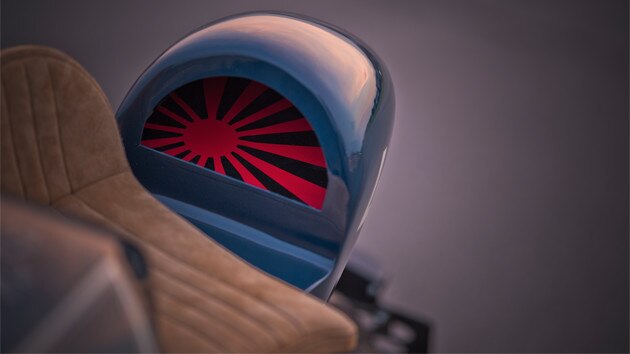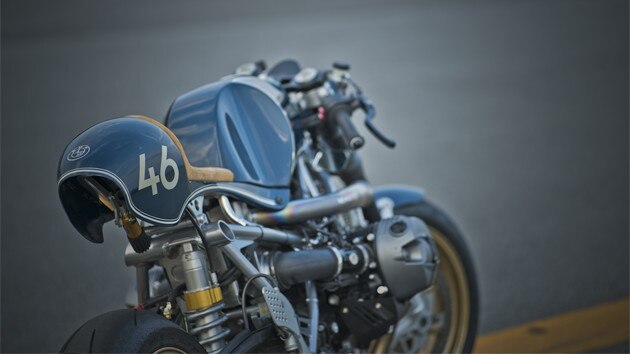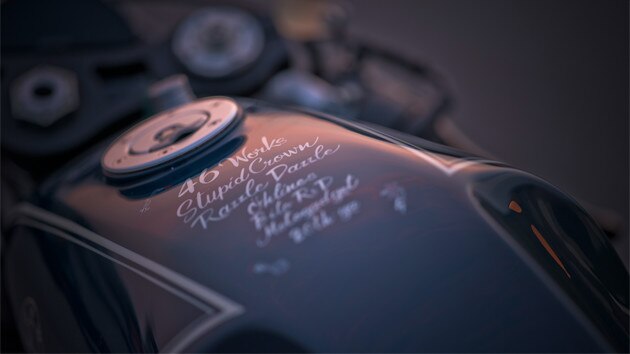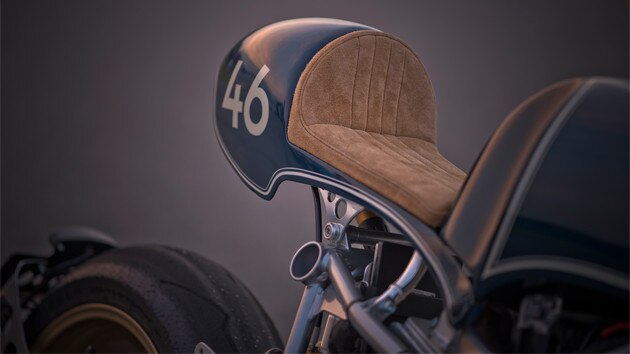 Disclaimer
Les véhicules représentés peuvent être modifiés et équipés d'accessoires de fournisseurs tiers et/ou de pièces de fabrication personnelle qui n'ont pas été fabriquées, commercialisées ni testées par BMW. BMW n'assume aucune responsabilité pour les modifications (y compris le montage, les caractéristiques et l'utilisation des accessoires représentés). ATTENTION : La modification de véhicules de série (y compris le montage et l'utilisation de pièces de fournisseurs tiers et de fabrication personnelle) peut altérer les caractéristiques de conduite du véhicule ! La conduite de nos véhicules dans un état modifié s'effectue aux risques et périls du pilote.